Riverbed announced Alluvio IQ, a new cloud-native, SaaS-delivered Unified Observability service that empowers IT with actionable insights and intelligent automation to fix problems faster and improve digital service quality. Alluvio IQ leverages full-fidelity network performance and end-user experience data across every transaction in the digital enterprise and applies AI and machine learning to contextually correlate data streams and alerts to identify the most business-impacting events. The new service enables IT organizations to "shift left," empowering all staff to do the job of more experienced IT experts, freeing-up senior IT staff to focus on strategic business initiatives.
"We are thrilled to unveil Alluvio IQ and deliver on our vision to create a highly innovative, differentiated SaaS-delivered Unified Observability service," said Dan Smoot, CEO of Riverbed. "Observability today has evolved in the market to deal beyond the challenges of application monitoring, testing, and management. As IT teams continue to face issues managing complex, highly distributed environments, Riverbed saw the need for a broader definition and approach to solve an expanded set of challenges. We believe a unified approach to observability is key to allowing organizations to take back the reigns of IT by transforming massive amounts of data into actionable insights that drive enterprise performance and deliver exceptional digital experiences."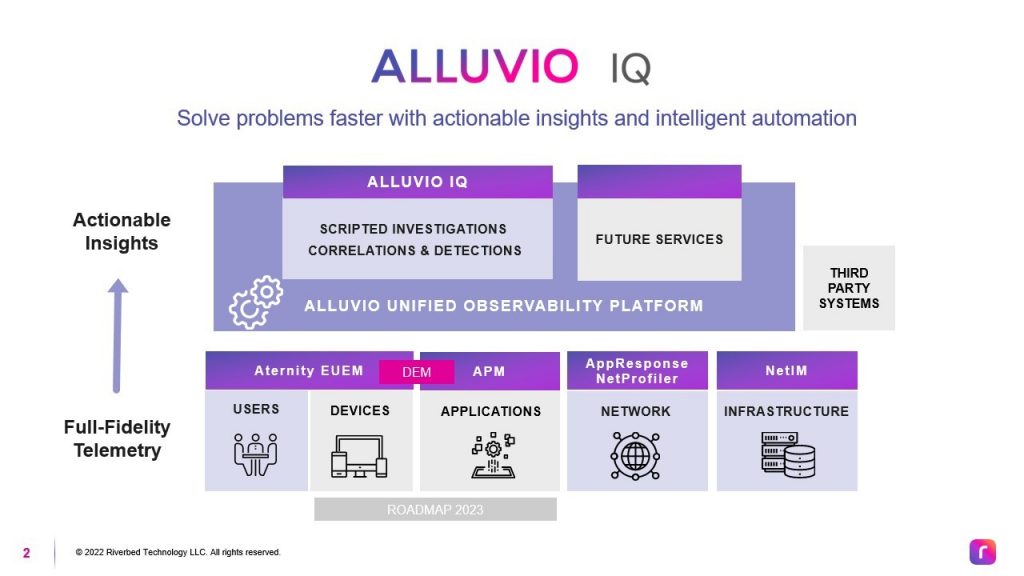 Alluvio IQ enables IT organizations to move from simple monitoring and visibility to reap the full benefits of unified observability. Some of those benefits include:
Reduced MTTR with actionable insights and intelligent automation that improve digital service quality and enable more productive customers and employees.
Improved first-level resolution rates by enabling junior teams to do the job of senior staff with confidence and without needing to escalate.
Increase agility and productivity by reducing alert fatigue so operators can focus on fewer, more critical events with more first-time fixes.
Alluvio IQ is the first service built on the new Alluvio Unified Observability platform, a secure, highly available and scalable SaaS platform for cloud-native observability services. Alluvio IQ and the Platform are part of the Alluvio by Riverbed portfolio, which also include industry-leading visibility tools for network performance management (NPM), IT Infrastructure Monitoring (ITIM) and Digital Experience Management (DEM), which encompasses application performance management (APM) and end user experience monitoring (EUEM).