Heidrick & Struggles today launched the first edition of its annual Middle East Technology Officers Compensation Survey based on responses collected in March 2023 from technology leaders based in United Arab Emirates, Saudi Arabia, Kuwait and Bahrain. Battling with inflation amidst efforts to grow the economy last year coupled with rapid advances in technology, the Middle East faces a shortage of technology leaders, and the GDP growth allows high compensation for such executives.
The median total compensation of technology officers in the Middle Easy was $528,000 but those with more years of experience and working at companies with higher revenue enjoy higher compensation in terms of both base and bonus.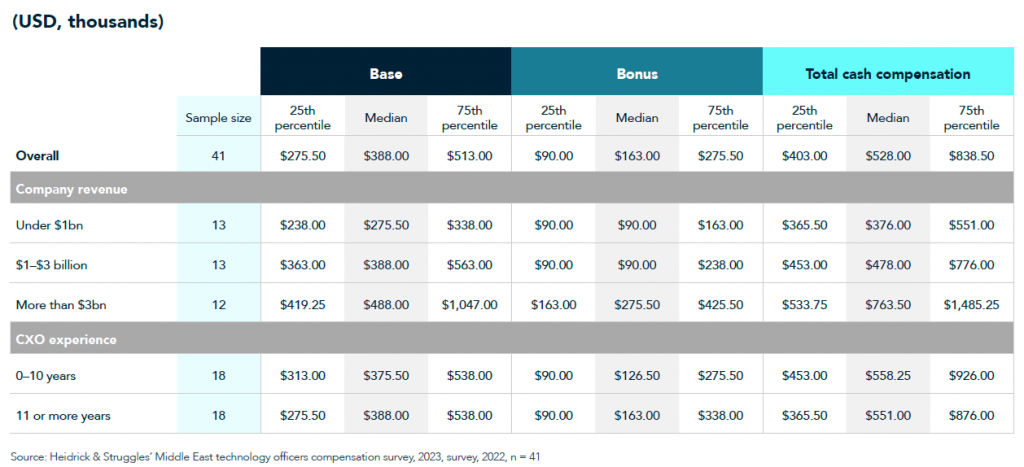 Part of the evolution in compensation structure is the discontinuation of some allowances. Historically, companies offered allowances such as housing, transportation, and education to both locals and expats to entice them to the region. As the markets have matured, we have seen these allowances be eliminated or reduced, or bundled into the fixed element of compensation.
"With the vast advancements in technology across the world, companies who want to stay ahead of the curve need to implement technology-focused business strategies. To attract and retain technology leaders, organizations in the Middle East should consider pivoting to long-term incentive plans instead of adopting fixed-cash structures," said Tom Clarke, Partner, Technology and Services Practice, Middle East.
A majority of the survey respondents were chief digital & technology officers and chief information officers in the financial services, industrials, or energy industry, with 20 or more years of professional experience but little C-suite experience. Ninety-five percent of the respondents were men, with respondents reporting a wide range of organizational revenue from pre-revenue to more than $5 billion.