In today's fast-paced digital era, businesses are faced with a clear ultimatum: adapt or risk obsolescence. Digital transformation emerges as more than just a technological upgrade; it represents a radical rethinking of how businesses operate in the digital age. Contrary to popular belief, it's not solely about integrating the latest software or gadgetry into one's workflow. At its core, digital transformation is about leveraging digital technologies to reinvent business strategies, business processes, refine customer experiences, innovate, rejuvenate organizational cultures, continuously explore, learn and adapt.
In this vein of massive technological influx and change, the stakes are incredibly high. According to marketsandmarkets.com the digital transformation market size is to grow from USD 695.5 billion in 2023 to USD 3,144.9 billion by 2030, at a compound annual growth rate (CAGR) of 24.1% during the forecast period.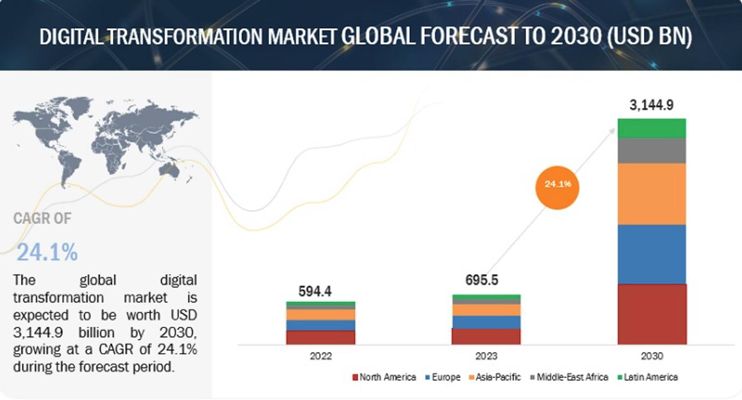 However, amidst this fervor, a striking number of digital transformation efforts stumble, often
failing to meet their goals. Such a trend accentuates the vital importance for companies to grasp
the true depth of digital transformation and formulate robust strategies that not only initiate but
sustain the transformation journey.
Digital transformation is pivotal for modern businesses, yet the road to success can be riddled with challenges. A stark observation reveals that less than a third of companies truly succeed in their digital endeavors. To be precise, less than one-third truly excel in their digital transformation pursuits.
To stand out among the pioneers of digital transformation, businesses should consider these essential steps:
Strategic Planning with Clear & Measurable Outcomes: Construct a detailed adoption strategy that outlines new practices and their integration. This plan ensures that teams understand upcoming changes and can adeptly navigate them. Coupled with this, establish clear, measurable objectives. With a defined target, teams can align their actions to achieve overarching goals.
Optimize and Simplify: Audit processes to identify and remove outdated practices, certain processes can quickly become antiquated with rapid technological evolution. Identifying and eliminating these redundancies is crucial. Embrace digital tools that streamline and refine workflows, ensuring resources are used efficiently.
Promote Agility and Collaboration: An agile organization thrives on teamwork. Encourage a culture where teams synergize, drawing from each other's strengths in the context of digital innovation, this means collaborative problem-solving, proactive ideation, and a collective drive to achieve more with less, combined with the right technologies, paves the way for success.
Harnessing the Digital Future: The Final Act
Digital transformation isn't merely a trend—it's the crucible in which tomorrow's business success stories are forged. As the scaffolding for unprecedented growth in this digital age, its promise is immense. However, the magic doesn't lie in mere adoption, but in artful integration.
Every enterprise, regardless of its scale or domain, must craft its unique narrative of transformation. This could be a tale of product evolution, a story of business model reinvention, or a chronicle of operational metamorphosis. But at the heart of each narrative, there should be clarity of purpose and a roadmap for realization. With a visionary goal, underpinned by agile methodologies, businesses aren't just adapting—they're setting the stage for a new era. An era where efficiency meets innovation, where tradition weds technology, and where potential transforms into palpable progress.
In the grand theatre of business, digital transformation is not just the final act; it's the encore that keeps the audience—customers, stakeholders, and employees—longing for more.
About the Author
Mohammed is a senior executive with over 19 years of global experience in providing strategic leadership and operational management to growth line of business through leading Digital Transformation, Innovation, Data Analytics, Cloud migrations, Technology adaptation, Business Process Reengineering, Enterprise IT Operations, Revenue Enhancement programs… Has held a central role in the growth of several reputed Global MNC's, Regional Govt & High worth family-owned Businesses in MENA Region.