Data has never been more critical for today's businesses. But as technology evolves, so do the attached security risks. Cybersecurity is a critical component of modern business and personal data.
Digital businesses must be aware of the threats that can negatively impact their data. IBM reports that data breaches have become increasingly covert, with an average breach taking nearly nine months to identify and contain after it first appears. The amount of data a breach can impose before a team controls it can be dramatic.
There are many cybersecurity trends businesses will need to observe if they're going to protect their assets. Many of these points relate to new ways to stop threats, which is essential for how different cybersecurity threats evolve.
Threat Exposure Management
Threat exposure management is a practice where a business continuously reviews threats that may appear. The Hacker News wrote in a May 2023 analysis of this practice that it entails five critical steps:
Reviewing potential threats
Identifying said threats through regular diagnostic procedures.
Creating priority levels for certain threats
Confirming the threat
Mobilization to control the issue.
Automation Efforts
Automated cybersecurity systems will be vital to help stop attacks. Teramind.co reports that automated setups can identify data breaches in less time than regular systems. This statistic comes from how automation helps a program identify certain breaches and threats based on pre-set definitions.
Part of how cybersecurity setups can use automation entails correlating data from various segments and comparing how different data sets act or respond. Once a substantial threat appears, the automated setup can trigger actions to mitigate the concern.
The Rise of Zero Trust Security
Gartner reports that more countries and territories are incorporating privacy laws for online use, with a majority of the world's population falling under some sort of security standard. One way how businesses can protect their data in today's increasingly private online world is through zero trust security processes.
Zero trust security is a cybersecurity practice where all people on a platform must undergo authentication and validation to receive access to said space. Zero trust is about allowing access only when someone needs it and that person can be trusted. Sometimes the work involves particular user accounts, while other situations require people to log in through specific devices or operating platforms. Since people are more capable of being private on today's networks, a zero trust system will be vital for keeping data from being lost.
IoT Security
The Internet of Things or IoT is helpful for many online activities, as it helps allow devices to stay connected to different data stores. Exploding Topics reports that there are nearly 15 billion IoT devices worldwide as of 2022, with that total expected to double by 2030.
But IoT hacking is a threat, as some IoT devices might have innate vulnerabilities that are easy for some parties to target. Expect future cybersecurity developments to focus on managing IoT devices and finding ways to block unauthorized access to different items, especially as people continue to be reliant on these materials.
Defensive AI and Machine Learning
McKinsey states that cybersecurity attacks have become common in today's online world. McKinsey writes that the number of ransomware attacks occurring in a year has been doubling each year since 2019.
With more companies working remotely or through online-only measures, it is often tough for some companies to keep their data stores safe. Machine learning will be necessary for identifying new threats.
Machine learning is a defensive AI practice that involves an AI system identifying unique data patterns and access operations. The system will review normal operations and compare them with sudden shifts that might suggest a threat. Depending on what the AI learns or what additional input the user adds to it, the AI will start figuring out what bits of content are safe versus whatever requires further control.
Current Cybersecurity Statistics

Cybersecurity Continues to Grow
The cybersecurity industry will continue to rise as the number of threats to devices keeps increasing. With businesses being more reliant on data than ever, the risk of falling victim to a hacking or ransomware or phishing attack will keep rising. Proper data security will be critical to allowing a business to grow and make its assets more viable.
About the author
Mohammed Ameen Uddin, Head of IT and Communication Head of IT and Communication, IHCC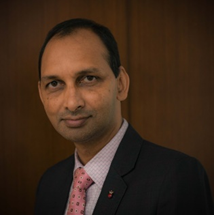 Mohammed is a senior executive with over 18 years of experience in providing strategic leadership and operational management to growth line of business including setting objectives, priorities and measures and managing employee performance, P&L, budget and KPIs. He has held a central role in the growth of several reputed organizations such as IHCC – Saudi Arabia, IBM – India, Bibasys Technologies, Ltd., India, Siddhi Soft Technologies, Bahrain, Al Muhaidib Group, etc. I drive strategic and analytical aspects for ongoing success, with a proven record of consistently exceeding goals. He is equally adept as a leader and key contributor in devising action plans, delivering and leading Strategic IT Roadmap Development, Project Portfolio Management, Strategic Transformation Management, Developing Networks & Global Datacenters, Enterprise IT Operations, ERP (Oracle and SAP) Implementations and Data Analytics & Business Intelligence.